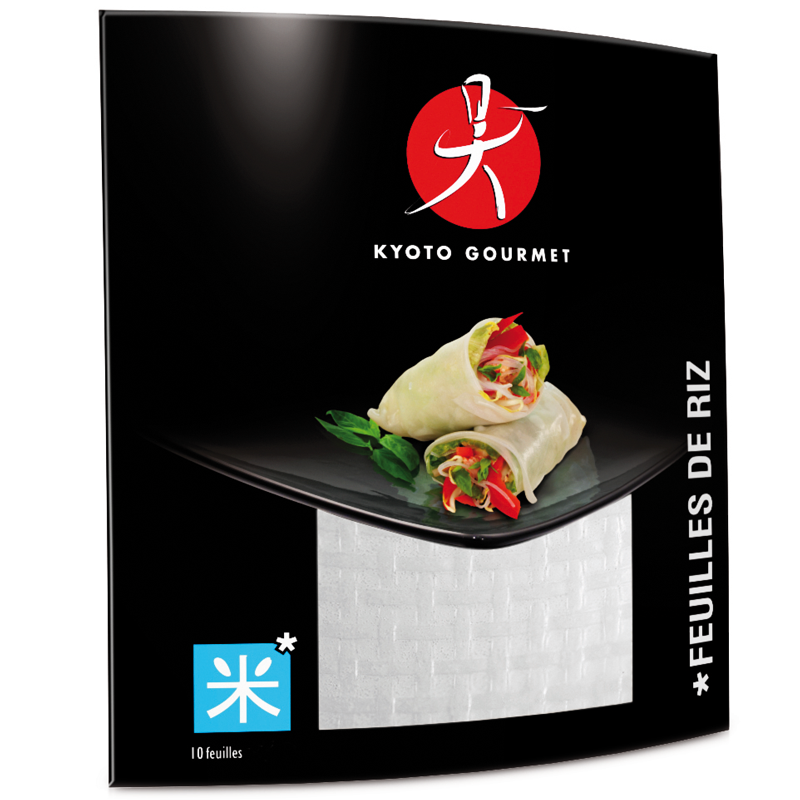  
Rice papers
Thin leaves for succulent preparations

24 / 48h delivery
Thin leaves for succulent preparations

Kyoto Gourmet rice papers reinvent your daily life and make it easy to prepare all your favorite Asian recipes!

Made from rice, tapioca and water, the rice papers are very thin, almost transparent, and are often used in Vietnamese and Thai preparations.

Garnished with freshly cut vegetables, minced meat or shrimp, soy vermicelli or sesame seeds, rice paper is an essential element of many savory preparations, such as spring rolls or spring rolls.

Likewise, you can garnish them with fruit, chocolate, coconut, honey or maple syrup for your sweet creations.

One sachet contains 10 sheets of 16 centimeters in diameter.

Origin
Vietnam
List of ingredients
Rice (70%), tapioca, salt, water
Allergens
None
Net weight
50g
Storage
Store in a cool, dry place
Nutritional values (per 100g)
Energy value: 20 kJ, 4.78 kcal
Fat: 0g
of which saturated FA: 0g
Carbohydrates: 4g
of which sugars: 0g
Proteins: 0g
Sodium: 15 g
Packaging
Sachet of 10 leaves
Price per kilo (all taxes included)
30,00 €/kg

Our advice

: To make them easier to use, immerse the rice leaves one by one in lukewarm water for a few minutes, then let them dry on a tea towel.

Then use the patties at your convenience to wrap meat, shrimp or other vegetables and fruits!
No customer reviews for the moment.
2 other products in the same category: