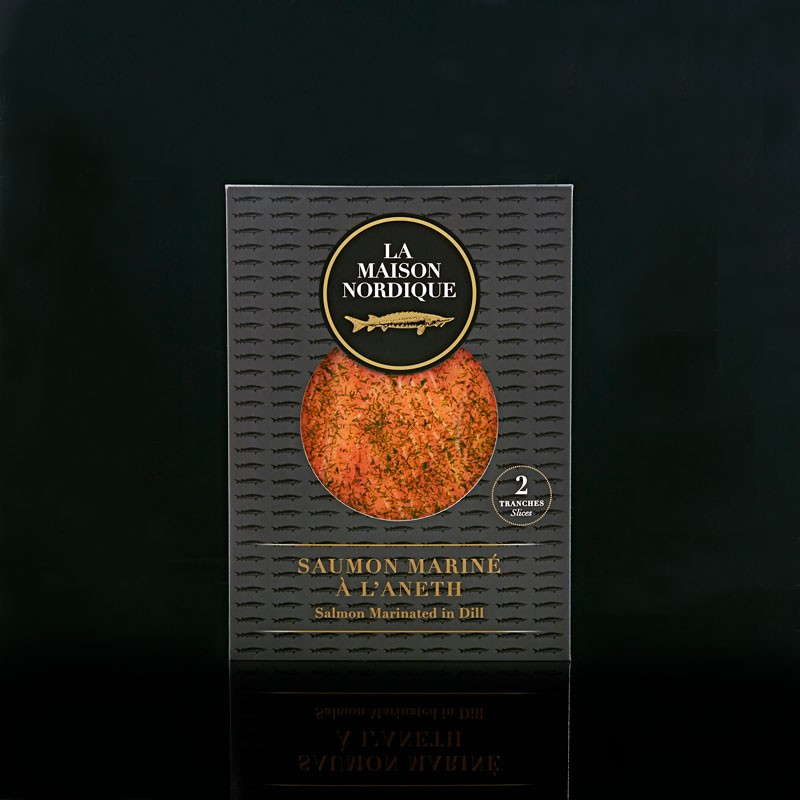  
Sliced salmon marinated with dill
A salmon simply exquisite

Cold chain respected
A salmon simply exquisite

On a golden plate, 2 to 4 delicious slices of dill marinated salmon sliced in our French workshops are waiting to be tasted.



Elaborated according to tradition by a salting of which only the masters have the secret, the marriage of salmon and aniseed flavors of the delicate herb that is Dill unveils with grace its admirably fresh and powerful notes.

Origin
Raised in Norway or Scotland
Expiration date
Up to 21 days before opening
List of ingredients
Salmon (Atlantic Salmo salar) 97%, marinade 3% (salt, sugar, dill, coriander, lemon juice, black pepper)
Allergens
Fish
Net weight
80g (2 slices), 160g (4 slices)
Storage
Store between 2 and 4 ° C
Nutritional values (per 100g)
Energy value: 813 kJ, 195 kcal
Fat: 12.4 g of which saturated FA: 3.6 g
Carbohydrates: <0.5 g of which sugars: <0.5 g
Proteins: 21 g
Salt: 3 g
Packaging
On blister, vacuum pack
Price per kilo (all taxes included)
110,00 €/kg

Our advice

: To appreciate the full flavor of the product, it is recommended to open the packaging 10 minutes before tasting, and consume the product within 24 hours.

We make it a point of honor to offer only the best, this product can lead to an additional delay of 3 to 4 days on delivery.
No customer reviews for the moment.
4 other products in the same category: