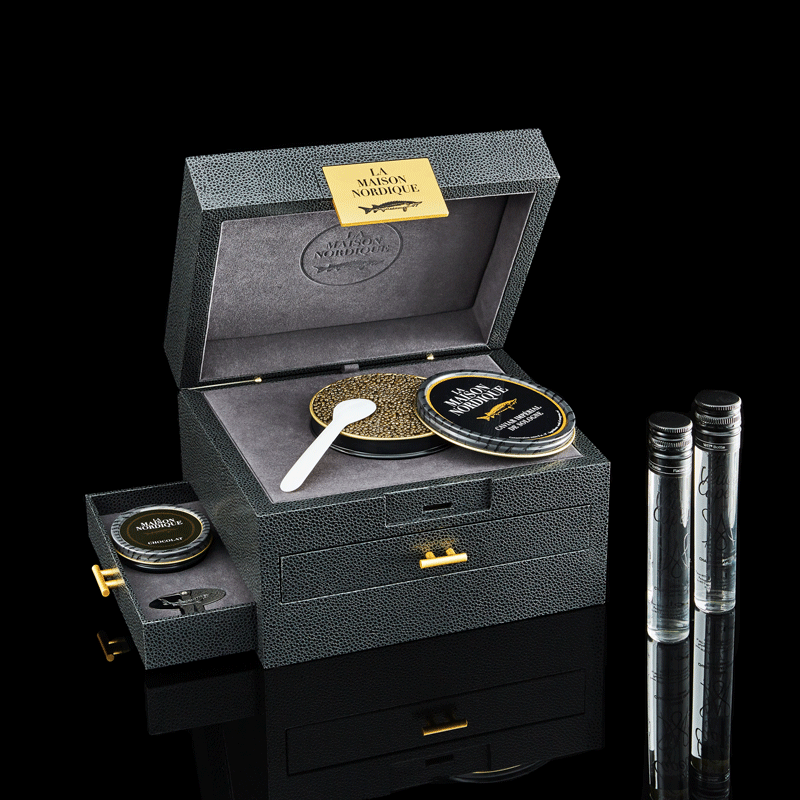  
Luxury Box
The jewel of year-end celebrations
| | | |
| --- | --- | --- |
| | | |
| 24 / 48h delivery | Cold chain respected | Recommended by the Chef |
Product customization
Don't forget to save your customization to be able to add to cart
The jewel of year-end celebrations

The drawers of this caviar case contain unexpected delights!

Royal in its center, on a bed of soberly concealed ice, the 125 or 250g box awaits only its sesame to release its precious grains.

Ready to be tasted, all you have to do is dive into it, with delight and delicacy, the two lovely spoons made of pearl!

As an accompaniment to this feast, find our delectable duo of Veuve Capet vodka mignonnettes that will make this moment a wonderful experience!

And, the apex of this luxury dinette, delicious homemade chocolate pearls, which one would easily confuse with those of caviar, give their sweet notes to savour.

 

Imperial Caviar of Sologne

Origin
France
Expiration date
90 days before opening.Once opened, should be consumed immediately.
List of ingredients
Sturgeon roe (Acipenser Baerii), salt, preservative: E284
Allergens
Fish
Net weight
125g or 250g
Storage
Store between 0 and 2°C
Nutritional values (per 100g)
Energy value: 1014 kJ, 243 kcal
Fat: 14 g of which saturated FA: 3,5 g
Carbohydrates: 2,1 g of which sugars: 0 g
Proteins: 26 g
Salt: 3,4 g
Packaging
Tin

 

 

Chocolate pearls


Origin
Spain
Expiration date
Up to 3 months before opening
List of ingredients
Dark chocolate 55%, sugar, cocoa beans, cereals (wheat flour, sugar, wheat malt, wheat starch, baking powder: E500ii, salt, cocoa butter, natural flavor) 16.8%, cocoa butter, whole milk powder, emulsifier (soya, lecithin), natural vanilla extract.
Allergens
Gluten, nuts, egg, lactose, soya, sesame, and sulfites
Net weight
30g
Storage
Store at room temperature in a dry place
Nutritional values (per 100g)
Energy value: 2230 kJ, 540 kcal
Fat: 32 g of which saturated FA: 20 g
Carbohydrates: 50 g of which sugars: 42 g
Proteins: 7 g
Salt: 0.37 g
Packaging
Tin

 

 

This box contains

:

+ A 125g or 250g tin of Imperial caviar of Sologne

+ A caviar opener engraved with a sturgeon

+ Two 50 ml Veuve Capet vodka mignonettes

+ Two spoons made of mother-of-pearl

+ A 30g box of Chocolate Pearls

+ A freezer block

 

You can write a special message that will be joined to your order.

 

Price per packaging (all taxes included)
Luxury box 125g : 3600,00 €/kg       Luxury box 250g : 3000,00 €/kg

 

---

Alcohol can damage your health. Please drink responsibly.

The sale of alcohol to minors is prohibited. You certify that you have the required legal age and the legal capacity to buy on this website.
No customer reviews for the moment.
4 other products in the same category: