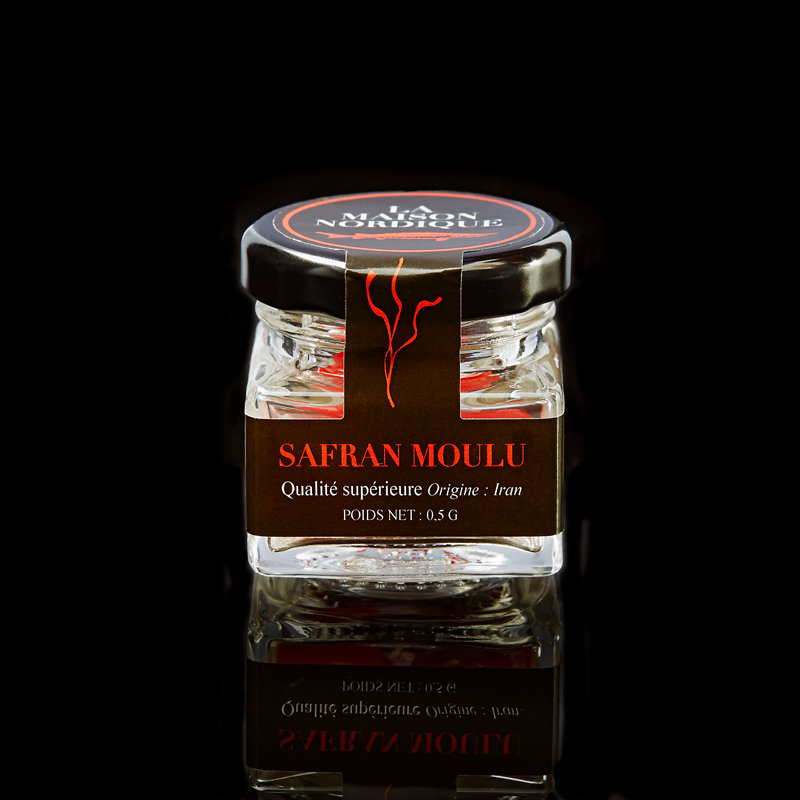  
Ground Saffron
Flavor revealer

24 / 48h delivery
Flavor revealer

Travel to a new world of taste with La Maison Nordique ground saffron, a product of excellence.

An irresistible fragrance emanates from the half a gram of saffron concentrated in a glass jar. This spice reveals aromas of pepper, flowers and honey with a delicate bitterness.
Its unique and exceptional taste colors and perfumes your various dishes such as bouillabaisses, paellas, broths and sauces, cheeses, or even confectionery and liqueurs, and is also very successful with rice.

It is even said of this powder, considered to be the most expensive in the world, that it has aphrodisiac properties and many other benefits!

| | |
| --- | --- |
| Origin | Iran |
| List of ingredients | Ground saffron (crocus sativus L.) |
| Allergens | None |
| Net weight | 0,5 g |
| Storage | Away from light, humidity and air, at room temperature |
| Packaging | Jar |
| Price per kilo (all taxes included) | 18 000,00 €/kg |

Our advice

: Ground saffron should be stored in a dry place and incorporated delicately at the end of cooking. Avoid wooden utensils which could absorb the coloring of the saffron. Let simmer over low heat for about ten minutes before serving.
No customer reviews for the moment.
1 other product in the same category: