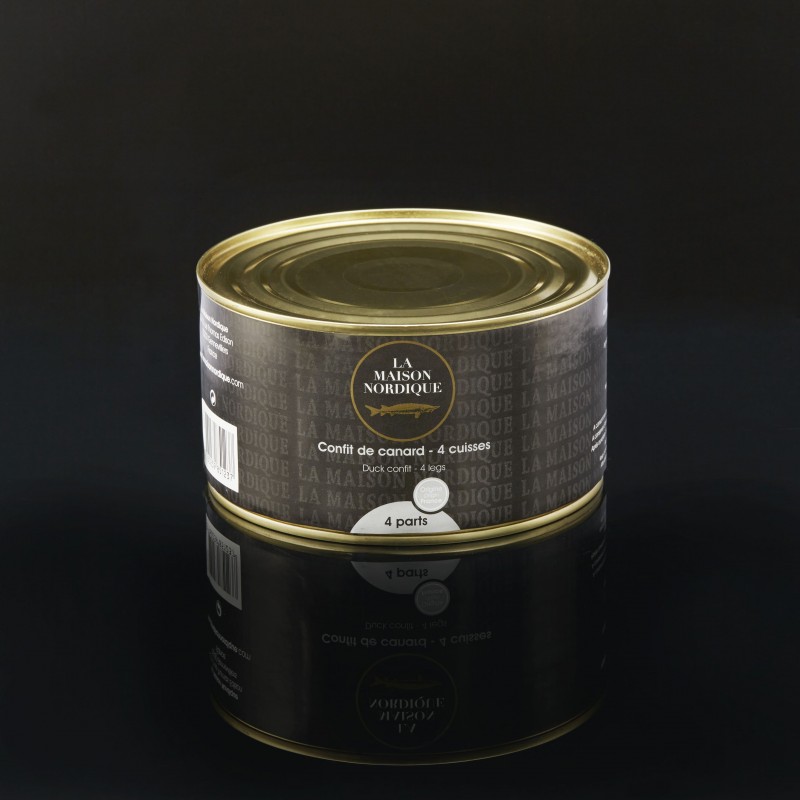  
Duck Confit (4 legs)
The delicious taste of duck

24 / 48h delivery
The delicious taste of duck

The recipe for duck confit La Maison Nordique is directly inspired by the delicious gastronomy of the South West of France.

Four carefully selected duck legs are delicately trimmed and salted, before cooking and simmering for several hours in pots.

Thanks to this traditional cooking method, the legs melt wonderfully in the mouth and offer everyone their delicious tasty flesh.

Origin
France
List of ingredients
Duck legs (French origin), duck fat, salt
Allergens
None
Net weight
685g
Storage
Store at room temperature
Nutritional values (per 100g)
Energy value: 1343 kJ, 323 kcal
Fat: 24 g of which saturated FA: 8.1 g
Carbohydrates: 2.1 g of which sugars: <0.5g
proteins: 24g
salt: 2.0g
Packaging
Tin
Price per kilo (all taxes included)
25,55 €/kg

Our advice

: The duck confit is already cooked. To appreciate all these flavours, we recommend simmering the confit for a few minutes over low heat in its fat and serving it hot with seasonal vegetables (green beans, porcini mushrooms) or fried potatoes. Confit can also be eaten cold.
No customer reviews for the moment.
3 other products in the same category: