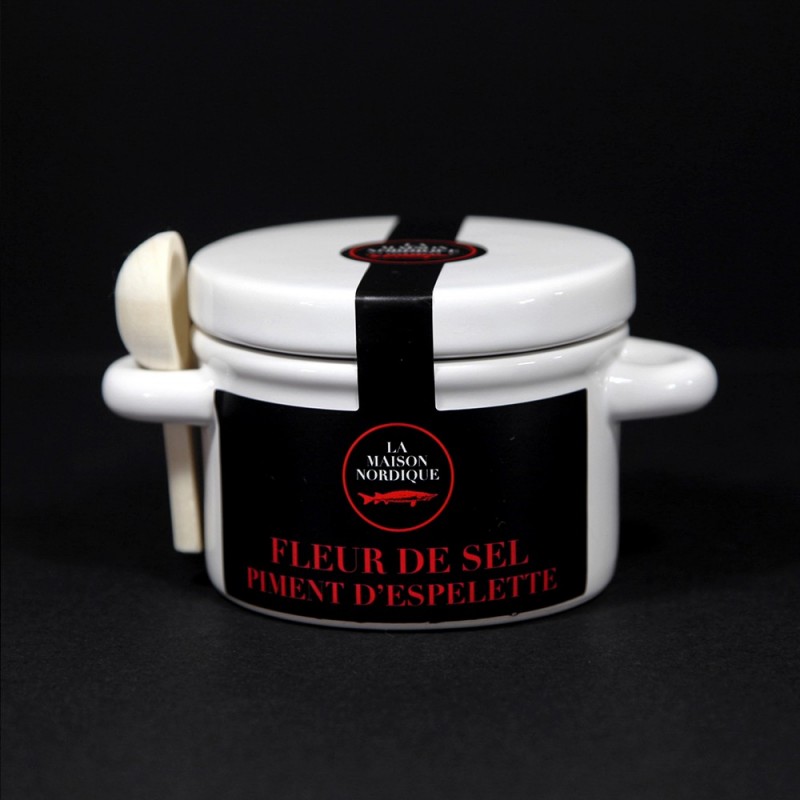  
Fleur de sel with Espelette pepper
A seasoning that has spice!
A seasoning that has spice!

In a small ceramic pot that gives a unique touch to the table, La Maison Nordique fleur de sel with Espelette pepper replaces salt and pepper and offers the tasting a bouquet of finely spicy, fruity and powerful flavors.

A few grains are enough to flavor vegetable soups, grilled meats or fine-fleshed fish. Likewise, harmony is ideal at the end of cooking with dishes from the Basque country or as a final touch on a chocolate dessert.

Origin
France
List of ingredients
Camargue fleur de sel, ground AOC Espelette pepper 4.7%
Allergens
May contain traces of: nuts, sesame, mustard, gluten, milk, egg, soy and sulphites.
Net weight
100g
Storage
Keep dry
Nutritional values (per 100g)
Energy value: 4 kJ, 1 kcal
Fat: 0 g
of which saturated FA: 0 g
Carbohydrates: 0 g
of which sugars: 0 g
Proteins: 0 g
Salt: 76.675 g
Packaging
Ceramic pot
No customer reviews for the moment.
1 other product in the same category: