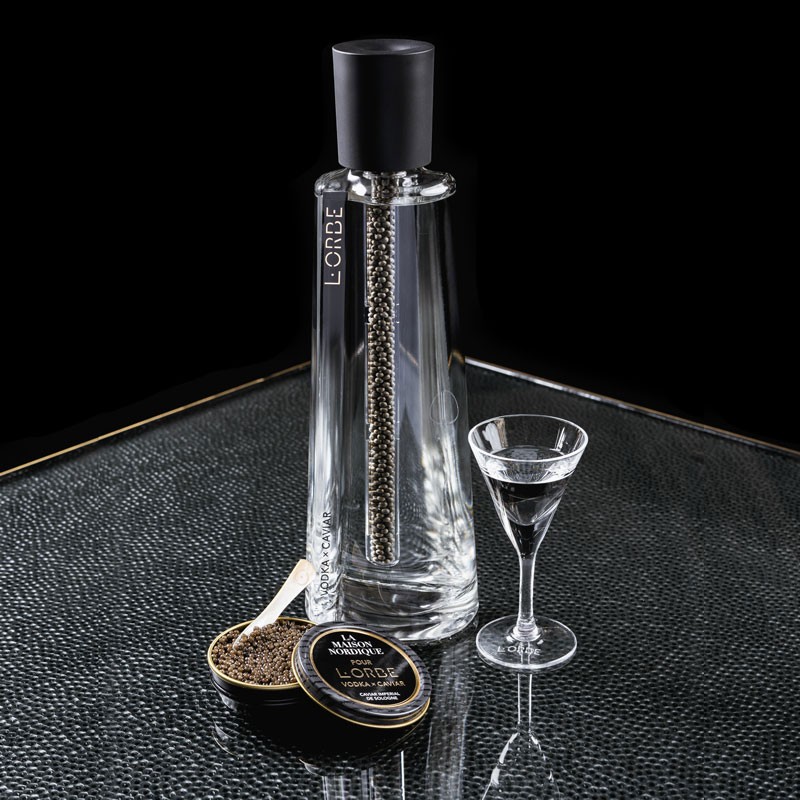  
L'ORBE VODKA x CAVIAR
A unique tasting experience 

24 / 48h delivery
A unique tasting experience 

Caviar-infused Vodka by L'Orbe and La Maison Nordique is the result of a passion for perfection, resulting a unique product, a symbol of two combined expertise.

L'Orbe, by Pernod Ricard, is the first natural infusion of Caviar Impérial de Sologne, La Maison Nordique's signature. This first edition highlights the unique character of caviar and the freshness and delicacy of vodka in an elegant bottle. L'Orbe Vodka x Caviar offers a subtle combination of buttery and nutty notes, along with a light iodine taste. 

La Maison Nordique Imperial Caviar from Sologne, a French caviar renowned for its unparalleled quality, is fused with L'Orbe Vodka, distilled from a unique, high-quality variety of Polish rye: the Dankowski Diamond Grain. Its creamy texture, its balance, its sweet notes of hazelnut, perfectly match the flavors of caviar. This marriage sublimates the character of each ingredient, to offer a taste that is both authentic and subtle, with complex flavors. A prodigious result made possible by a unique licensed technique: the rare ingredients are captured inside a sphere, the " orbe ", which protects the caviar and allows all its flavors to infuse slowly. 

L'Orbe Vodka x Caviar has a beautiful shiny color with iridescent reflections and a syrupy sensation. When tasted, the nose reveals rich aromas of vanilla and iodine. The palate is powerful and balanced. The saline note of caviar gives more scope to the structure of the taste. The mid-palate offers a nice roundness, and a long final note. The subtle tasting notes of L'Orbe Vodka x Caviar complement all types of seafood, such as lobster, crab, oysters or langoustine, and are perfect with sushi, sashimi, and any smoked fish. 

Origin
France
List of ingredients

Rye Vodka 40% infused with Imperial Sologne Caviar
No additives, no perfume, no coloring.

Allergens
None
Net weight
500ml
Storage
Store at room temperature before opening and in the refrigerator once opened.
Packaging
Glass bottle in a unitary box

Our advice

: Vodka is best enjoyed chilled, at room temperature with an ice cube or right out of the refrigerator, to appreciate all its properties. Serve the Vodka and aerate it gently to release all its notes. It is tasted in two steps: a first sip to rinse the palate then a second, more generous. After being dominated by the power of the vodka, the nuances will emerge and the notes of the caviar will be revealed. Sip freely and let yourself be carried away by the complexity and richness of the flavors.

---

Alcohol can damage your health. Please drink responsibly.

The sale of alcohol to minors is prohibited. You certify that you have the required legal age and the legal capacity to buy on this website.

 
No customer reviews for the moment.
2 other products in the same category: